5 Best Running Shoes for Shin Splints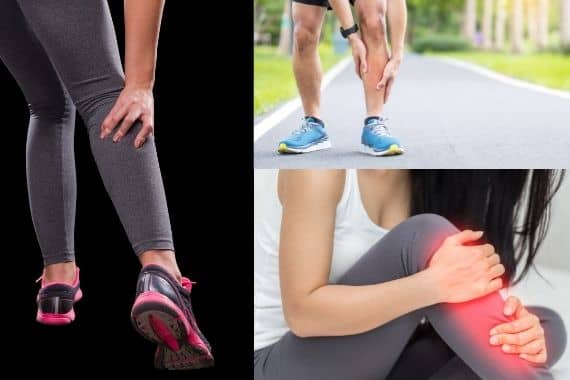 Do you feel tenderness, soreness, and pain along the inner-side of your shinbone when you run? Is this unruly shit keeping you from pounding your miles?
Shin Splints are among the most common and frustrating injuries among runners that are really hard to prevent and in most cases, the real culprit is the running shoe.
If you have shin splints, you might notice tenderness, soreness, or pain along the inner side of your shinbone and mild swelling in your lower leg going for the wrong or ill-fitting shoe contributes to severe pain and can worsen as your shoe ages. Well, you can alleviate your pain just by helping yourself make an informed choice while choosing the right running shoe, and that's what we are here for.
What are Shin Splints?
It refers to pain (sometimes a hell lot-of pain) in shin bones Tibia—the larger two bones in the lower legs. It is medically known as stress syndrome often occurs in newbies in running or athletes who have recently intensified or changed their training routines. Typically only one leg is affected when it comes to shin splints, and it's usually the runner's dominant leg.
The pain is usually a result of an imbalance between the calf muscles and the muscles in the front of your leg and most of the time, this is caused by ill-fitting shoes. A shoe with well cushioned is all you need to alleviate the pain.
Well, this article covers the top 5 (tried and tested) shoes for runners with different needs and situations so you can make an informed decision before pounding pavement.
Best Men's Running Shoes for Shin Splints
✔️ Uber comfortable
✔️ Stable ride
✔️ Lightweight cushioning
When it comes to running shoes, Brooks is known for its commitment to quality, innovation, and true knowledge of the sport, and they have their Adrenaline shoe to help you. We chose this one best for men as it offers nice shock absorption plus ample cushioning and support.
There are diagonal roll bars that enhance stability with every stride while their BioMoGo cushioning throughout adopts the shape of your foot providing comfort, softness and so much support. This much cushioning, you might be thinking of the weight, right?
Our testers were surprised checking how lightweight these shoes are and if you run heavy miles, they can do wonders in the breathability department, male runners especially need this, so that's one more reason Adrenaline is perfect for you. Only the issue most of our wide foot testers informed was the narrow size, for which, we would advise you to go for a wider version if you belong to the wide foot family.
---
Best Women's Running Shoes for Shin Splints
✔️ Responsive midsole
✔️ Smooth transition
✔️ Super lightweight
They are perfect running shoes for runners seeking a go-to shoe for running, walking, and hanging around.
Hoke One One is known for well-framed and supportive shoes that do a good job cradling the foot deeper in the midsole. If you are suffering from Shin Splints pain, look no further than Clifton 8 by Hoka One One.
The reason we chose this one best is their plush full-length & low-density EVA foam midsole cushioning that really absorbs shocks and decreases the pressure under the heel and ball of the foot. If weight is your concern, thanks to the EVA foam again that these shoes are lightweight also.
Furthermore, their perfect blend of breathability, support, and stability impressed our testers too. However, they may look ugly or chunky, so if you prefer style over substance, you may find them boring.
---
Best Running Shoes for Flat Feet and Shin Splints
✔️ Super breathable
✔️ Ground feel
✔️ Absorbs shocks
Runners who prefer a plush feeling, soft cushioning, and reliable support. It is perfect for long runs, tempo runs and recovery runs with ease.
In general, a normal foot experiences a pressure 1.5 times body weight when in contact with the ground, while people with flat feet runners feel more fatigued because of the problem of shock absorption.
So, if you are a flat foot runner suffering from shin splints, you need a shock absorption shoe with a good amount of cushioning. Such a good pair of shoes for this case is Gel Kayano 28 from Asics.
It is hands down ideal running and walking shoes for people with low-arches seeking stability and motion control. It is filled with Asics gel cushioning in the rear and forefoot that absorbs shock and provides support. We appreciate the lightweight and breathability they offer.
Furthermore, the shoe features ASICS updated Trusstic system to deliver a gender-specific feel and support. The men's one provides greater arch support while the system in women's one uses softer foam composition to better support forward motion, which makes the shoe overall best for both genders. Highly recommended.
---
Best Running Shoes for Shin Splints and Plantar Fasciitis
✔️ Super lightweight
✔️ Very stable
✔️ Responsive ride
Moderate to severe overpronators will love the shoe as a reliable everyday go-to shoe. This is ideal for long runs, half/full marathons, but they do not run too fast for your race day.
If you are suffering from shin splints with a history of plantar fasciitis, you need extra cushioning in your running shoes to relieve pain and to get your feet a good amount of support. One such pair of shoes that ticks all the boxes is the Arahi 5 by Hoke One One. We chose them for the test after getting to know that this pair of shoes has been proving to help runners getting rid of plantar pain.
With Hoka's signature lightweight EVA cushioning (motion controlling) which is ideal for shin splints, Arahi 5 provides a nice combo of balance, stability, responsiveness, and comfort. So, if you want a comfortable, lightweight yet breathable mesh upper, and well-stabled shoe, this one is something you must check out.
---
New Balance Fresh Foam 1080v11
Best Running Shoes for Shin Splints and Bad Knees
✔️ Premium materials
✔️ No-sew overlays
✔️ Very stable
When the patella moves out of alignment during running, the cartilage beneath it becomes irritated and causes a twinge of knee pain when you run. Inward rolling of the knees causes pain in shins, hips, feet, and runners back.
If you are not fitted with the best running shoes for shin splints and knee pain, it would keep you from running. For this, you need to consider a good stability shoe like New Balance 1080v11. It is a solid stability shoe that has ample cushioning, arch support, and comfort that keep your knees from turning inwards.
Running shoes can play a significant role in running through shin splints and preventing it to an extent. If chosen right, your running shoe can make things better by taking some of the pressure off your shins. However, ill-fitting or worn-out shoes can worsen the game.
This article covers tried and tested shoes that are highly recommended for runners with shin splints with a variety of combinations and situations, so you can find the right one according to your needs.
Most cases of shin splints can be treated with rest, ice, over-the-counter medicines, modifying your exercise routine, and wearing proper footwear, which preventing shin splints from recurring, while no shoe can prevent shin splint entirely, finding the right shoe can help.
However, if these ways are not doing any good, it's time to better see your doctor.
FAQs